Operator Auto Logout Settings
How do I change the automatic logout settings for my operators?
There are 2 different ways to change the auto logout settings for your operators:
1. Administrators can setup an 'Offline Schedule' to logout everyone at the same time every day. The Offline Schedule can be found in Admin panel -> Chat -> General settings.


2. Operators using the Alerter desktop module can change their individual auto-logout settings. The Alerter will log you out only if your computer is idle for the amount of time selected.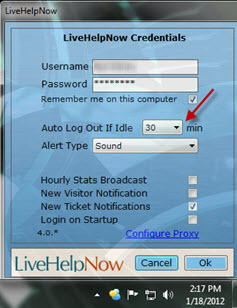 Leave a comment?