How do I close a ticket? What does "working" or "waiting for response" mean?
LiveHelpNow Email-Ticket Management allows you to manage inquiries collaboratively in order to provide the most service to your customers in the least amount of time.
Each Ticket starts out as "Open" in the ticket grid and ends up "Closed" when it is resolved.
Select an open ticket to expand the Ticket info and click "Accept" to start working on it. You can also "Assign" the ticket to a department or a specific operator.

*Once a ticket has been assigned, only the designated department or operator can resolve the ticket*
"Acknowledge" an assigned ticket to start working on it. Only Administrators can "Reassign" tickets.

If you do not have enough information to resolve the ticket use the "Add notes" button to update the ticket and change its status to "Working" or "Waiting for response".
Check "Visible to customer" to allow the customer to see your notes
Check "Notify customer" to send an email update to the customer with your response
Click the "Add notes" link to submit the changes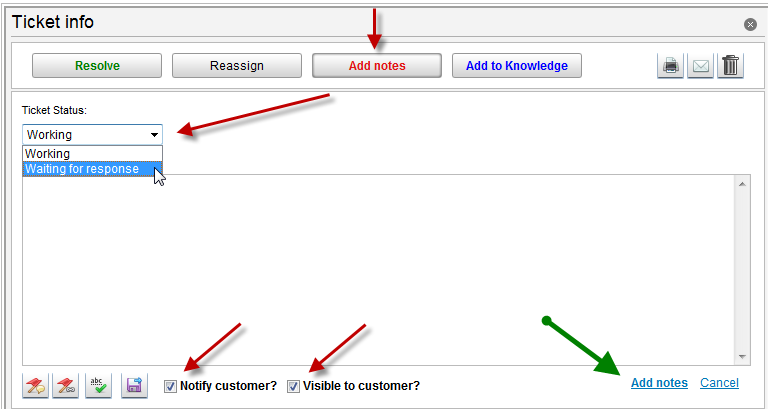 When you have found the best answer to the inquiry use the "Resolve" button to update and close the ticket.
Check "Notify customer" to send an email update to the customer with your response
Click the "Resolve" link to close the ticket