Exchange of confidential information in chat or ticket
How to securely exchange confidential information in a chat session or an email/ticket?
At LiveHelpNow, we don't only know how to spell security We're big believers in it. In the past, our chat sessions and emails have always been great for holding secure online conversations with prospects and clients. Unfortunately, there was no simple way to securely share confidential information.
But, that was then – and this is now. Our new, unique feature, "Secure Forms" enables you to create a form to collect confidential information from customers via live chat, SMS, or email ticket. You can securely receive loan applications, credit card information and more from customers right within your chat session or ticket reply. The best part is that it's all PCI/HIPAA compliant!
LiveHelpNow is the only help desk system available on the market today that enables enterprises to securely collect PCI and HIPAA information from customers via live chat or email.
Setup
Head to Admin Panel > System setup > Secure Forms ( link )
Click on "Add form"
Select one of the pre-defined forms if it matches your purpose such as "Credit card"(credit card information collection) or "ADFXML"(auto dealership lead capture)
You may also select "Custom" to create your own form.
Provide form name and description
Specify which departments should use the form
Select "Prompt in panel" if you would like the form to automatically show for agents to be filled out for every chat.
Select "Encrypted" if you would like form submission to be saved encrypted. Encrypted forms may not be exported or reported on, they are designed only to receive information to be viewed within operator panel while in an active chat or in a ticket reply.
Specify form actions. Actions execute upon form submission. The following actions may be selected:
a) Send Email (form information is emailed to a specified email)
b) Send Email then purge (form information is emailed to a specified email and then purged)
c) Send webhook (form information is send to a public URL as a JSON payload)
d) Send webhook then purge (form information is send to a public URL as a JSON payload and then purged)
e) Purge (purge instantly after viewing or after a specified period of time)
Add/remove fields to the form for collection. You may also use Group Fields there to frame fields of similar type to make the form formatted in a more logical way.
Here's a small demo of form creation:





Use
Once form(s) are created they may be used within a chat session or a ticket reply.
If you enabled "prompt in panel" the form will automatically show for each chat like so:
Forms may also be filled out/pushed in chat manually.
Here's what the form looks like in customer chat window.
Here's how agents receive for submission in chat.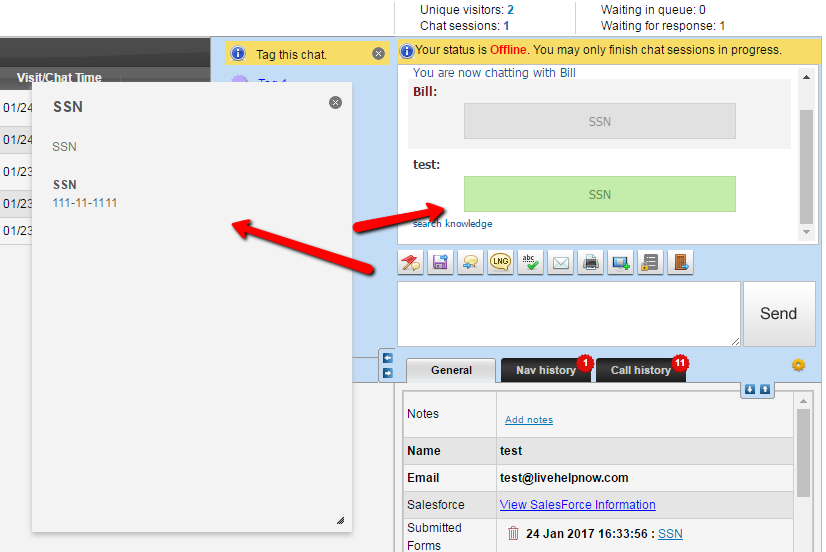 Forms also work in tickets. Agents may send link to a secure form via ticket reply (email) and be notified instantly when customer filled out the form.
Here's more information on secure forms:
Boost Data Security and Success with Secure Forms